Here are some SEO updates along with the new Search console AMP reports that help in differentiatingВ between the critical and non-critical errors.
According to the latest information the Google webmaster, Search console has updated the error of AMP. It will be helpful in differentiating between the critical and noncriticalВ errors.
В SEO updatesВ
It has been announced by Google that the AMP reports are now upgraded in Google search console. It would be helpful to clearly differ the critical and non-criticalВ errors. This update will be helpful to stop your error page in search engines before fixing.
According to this new update, the critical errors will not be indexed by Google.В In other words, Google cannot index that content with critical errors. In this way, these errors will not appear in search engines results.
So those errors labeled as "critical" would mean Google cannot index that AMP content, and thus it won't rank in the search results. The non-critical issues are more likely around richer results that do not prevent the content from being indexed but prevent it being enhanced in the search results.
Find here some screenshots ofВ this change: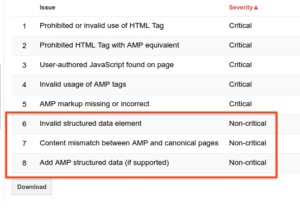 В